About Game Quotes
Game Quotes is an archive for quotes from your favorite video games made by Kevin Woblick. Quotes from games are available in German and English and searchable by genre and game.
Currently there are 1236 quotes in 558 games.
The history of the site
Game Quotes was launched back in 2013 as a small side project. At that time there was a site similar to what Game Quotes is now: an archive of funny, inspiring or awfully weird quotes from video games. I loved browsing through the archives, but the site seemed abandoned, as no new quotes were added over months. Today, the old archive is gone and with it a hand full of great content. Besides that archive, there was no other place on the internet where you could find curated quotes from video games.
2011-2013: Game-Zitate
Knowing that I had found a great project to work on, I decided to start small with the German-only version of the site: Game Zitate. Based on Wordpress, I was able to quickly put up a website containing some quotes I had collected in the previous months before the launch. The following picture shows how this site containing some quotes from video games looked like.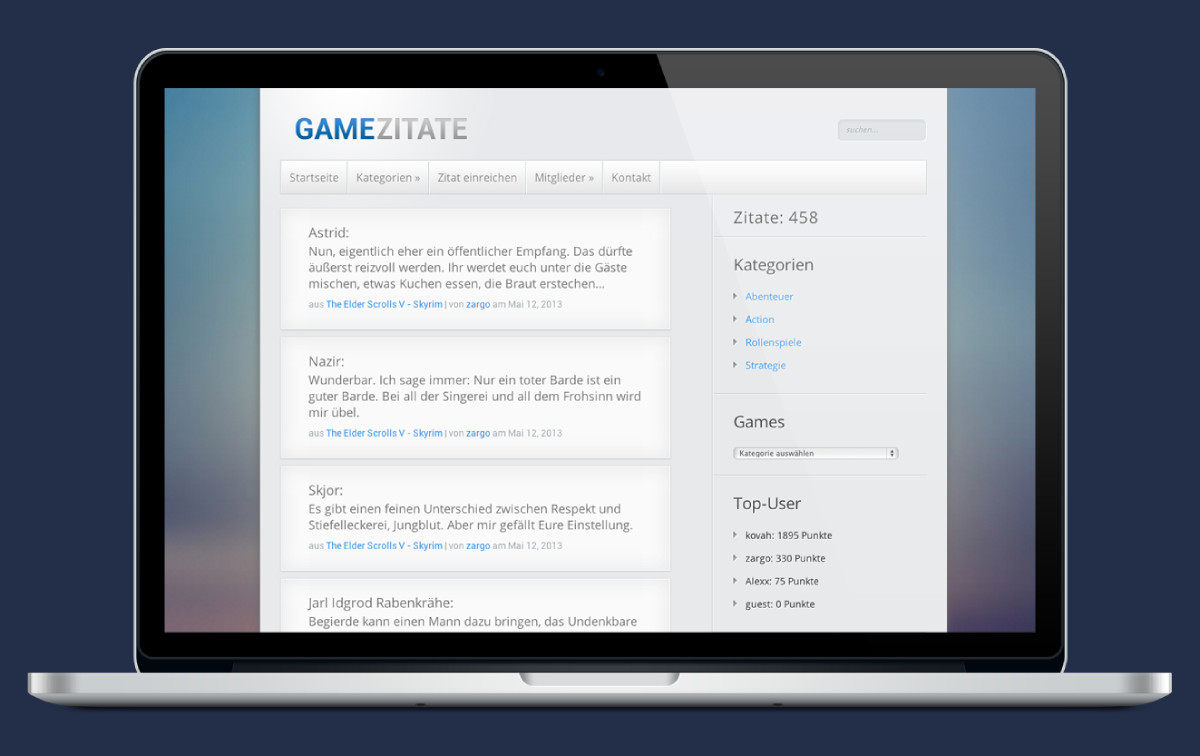 I worked on this site for quite some time until I noticed that Wordpress wasn't the right platform to publish videogame quotes. Wordpress was way more limited that it is now, and handling categorization of quotes properly was really difficult. I used some plugins but never achieved the level of detail I wanted. I knew that I had to find another way to collect quotes from my favorite games.
For some months I experimented with Drupal and other content systems, but none really felt quite right. Also, I wanted to build my first "own" application, and Laravel 4, a framework for building websites, was right around the corner.
2013-2017: GameQuotes.net
In the following months, I built a completely new website that was able to store quotes for video games like I wanted. The site also offered English as a new language. It was a lot of hard work and I deeply appreciate all the work the open source community has done, because this website would not exist in this form without it.
Development of the site took quite a while because I had to do so much stuff entirely on my own. But I learned a lot and then the site launched successfully. The following is a screenshot of the site displaying some videogame quotes.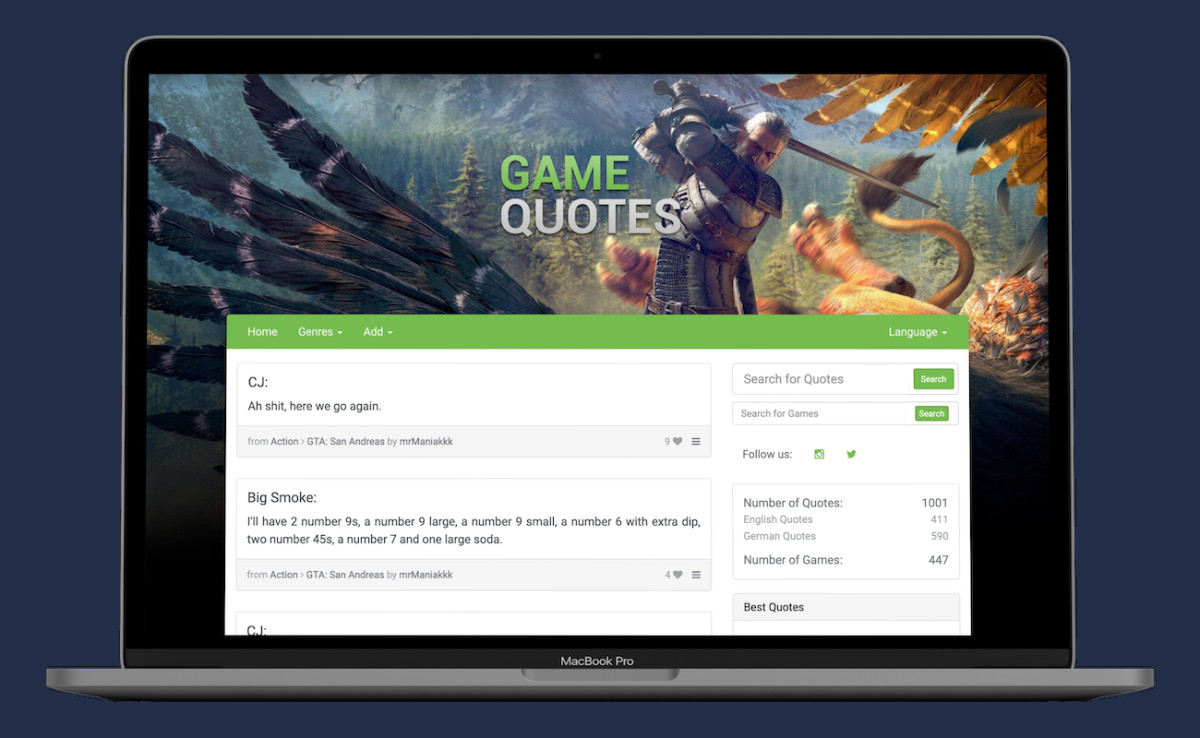 In the next years, I collected more and more quotes from various games and the archive expanded from around 400 to almost 1000 quotes.
Unfortunately, the project came to an abrupt halt because of a domain issue. The registrar I had at that time failed to renew the domain correctly because of a lack of funds, but without any warnings right before it got deleted. The restore would have been possible, but I simply didn't had the money at that time. A quick solution was to find a new domain for the project, but all effort I had put into the site regarding SEO had vanished. Game-Quotes.net is now a scam website spreading malware (so don't visit it). The new domain I purchased for the project was game-quotes.com, which is still in use.
2017-2021: Game Quotes 2
While I had the old gamequotes.net domain, I started rebuilding the website with a newer version of Laravel, because the framework made some significant changes, so upgrading was not that easy. Around 2016 I started working on Game Quotes 2 and invested a lot of time into it. Unfortunately, I was too motivated and wanted to build a very sophisticated new site, with some community features like friend requests, teams and chat. Videogame quotes should be translatable and I built a large admin dashboard.
The relaunch was too sophisticated, I spent too much time with details and was just exhausted after some time. I launched InvoicePlane around 2014, which I abandoned after 4 years because I burned out completely. Other projects like Game Quotes had to wait and the new, rewritten version became a pile of old technical debt.
2021: Game Quotes Relaunch
Fast forward a couple of years to the end of 2020. 2020, despite being a horror year for the world, my year was quite a success. I published LinkAce, which I was working on for a year without burning out. Game Quotes was still in my mind over the past months, as I am unable to work with the old system anymore.
Because I had the negative experience with a complete, very sophisticated rewrite, I decided to start small. In just two weeks I built a completely new system which was able to replicate the old Game Quotes website with its major feature: displaying quotes from video games. That's the main point of the website. Game Quotes now has a modern technical foundation with a minimal footprint. I am able to iterate fast and build new features without having to restructure the whole website. Let's see what will come in the next years.
Search for quotes or games...